EACH: International Association for Communication in Healthcare is a global organisation dedicated to exploring and improving the ways in which healthcare professionals, patients and relatives communicate with one another.
EACH and its members work together to:
Promote effective, patient-centred and evidence-based healthcare communication
Provide expertise, resources and skills for health communication education, research and practice
Encourage networking between healthcare communication professionals to provide advice and cooperation on health communication projects and education
Covid-19
We are currently experiencing the largest global emergency for a generation. Many of you have been working on new methods, strategies and areas of research which we are delighted to be including within our conference programme.
We encourage you to join EACH to help promote effective healthcare communication throughout the world. EACH members significantly contribute to the body of evidence and best practices in research, education, and implementing effective communication in healthcare for learners, clinicians and health care systems. Through EACH, you can learn from and contribute to improving communication in your own workplace, country or sphere of influence as well as throughout the world.
tEACH has collected and developed videos that can be used in teaching communication skills of health care learners. Members have access to the full resource database, but if you aren't a member, have a look at the sample tools, including the latest Calgary Cambridge video.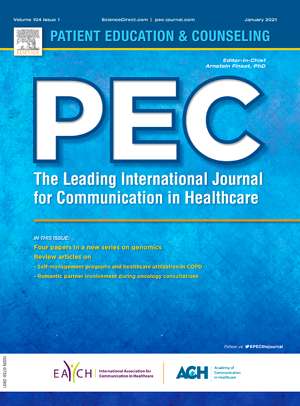 Patient Education and Counseling

Official journal of EACH, the International Association for Communication in Health Care and ACH, the Academy of Communication in Healthcare.
EACH has re-launched its programme of pre-ICCH 2020 Online courses for autumn 2021. Workplace-based communication skills teaching and learning The primary focus
Sister Organisation