Based on a student symposium Gozie Offiah will present this webinar on
Black lives matter – Addressing racism within the medical school curriculum 
Racism, microaggressions and implicit bias within healthcare communication and medical education influences many aspects of student experiences and often appear in covert and institutional forms. These shared experiences reflect a common problem faced by ethnic minority medical students. How can these issues be addressed by institutions and by educators?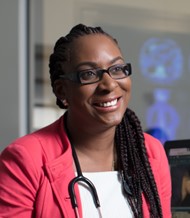 Dr Gozie Offiah
BSc, MB BCH BAO LRCS/PI, MD, MMedSc, PhD in Medical Education
Dr Gozie Offiah practised medicine (with a background in Surgery) for over 15 years in the Health Service Executive (HSE). Dr Gozie Offiah is a Senior Lecturer and Director of Curriculum at the Royal College of Surgeons in Ireland. She is also the Clinical Lead for the National Intern Training programme in the Health Service Executive, the chair of the cross-cultural group of tEACH, the International Association of Communication in Healthcare and the Non- executive Director of the Medical Protection Society for Ireland – a unique blend of a clinician, educationalist and Non-Executive director. Her teaching experience spans undergraduate, postgraduate and continuing medical education in health professions education and training. Her teaching interest includes curriculum design, delivery and faculty development. As the Director of Curriculum, Gozie has been engaged in curricular design and currently leading a transformed medical undergraduate curriculum. She has held several leadership roles across organisations in Ireland and Internationally.
The time shown is GMT
Date/Time 31 Jan 2023 @ 6:00 pm - 7:00 pm
Event Type No Categories