Erasmus+ project Empathy In Healthcare:  Curriculum Development using VR technology to enhance empathetic communication skills in future health care professionals.
This course is via Zoom.  Please note the timezone is Cyprus time (GMT + 3).
Facilitators
Alexia Papageorgiou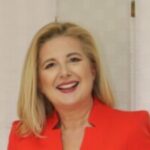 Alexia Papageorgiou is a Professor in Clinical Communication and the Chair of the Centre of Medical Education at the University of Nicosia Medical School.
Date/Time 26 Oct 2021 @ 7:00 pm - 8:00 pm
Event Type